Welcome to Hide Icons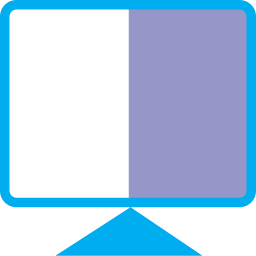 Hide Icons effectively hides your Desktop icons. Ideally it should be placed in the Applications folder. It can be specified as a Login Item in your user account as a nice way to have the application run automatically.
1) Use
Hide Icon is used two ways: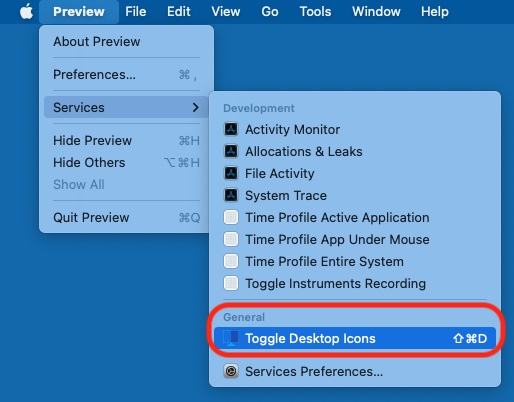 Notice the default key combination (this can be changed, see below).
) As a menu item,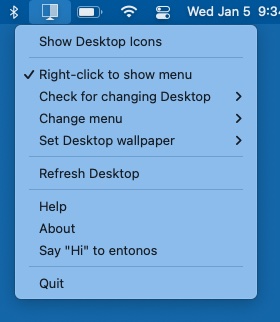 2) Services
Hide Icon can be controlled by Services. You may have to got to >System Preferences…>Keyboard, select Shortcuts, select Services on the left and check Toggle Desktop Icons on the right. You can also select your own shortcut.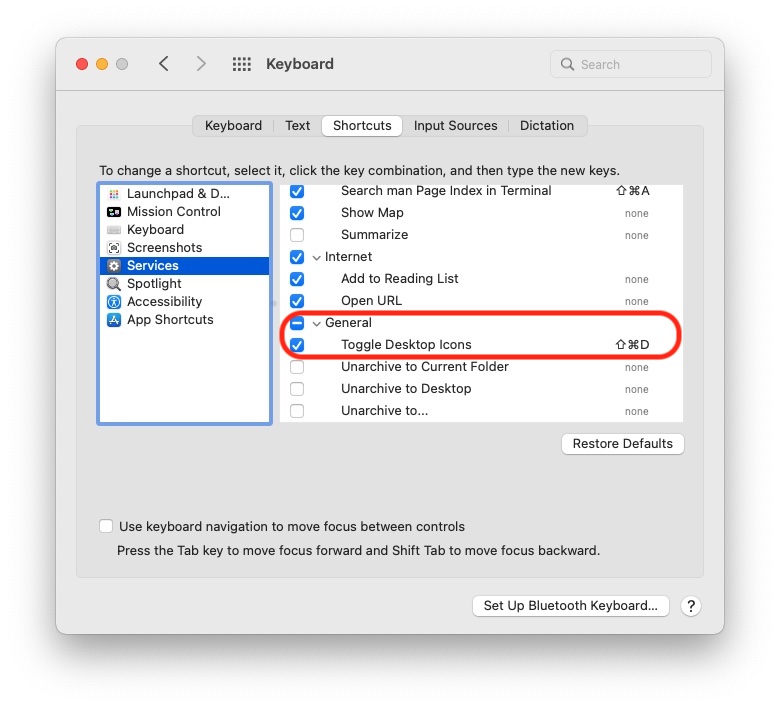 If Toggle Desktop Icons is not present, make sure Hide Icons is in the Applications folder and you will need to logout/login for macOS to see the Service.
3) Where is the menu (

)?
Simply run Hide Icon again. The menu is not present if Hide Icon was started as a Service or

>Change menu>Remove menu was chosen.
4) Requirements
Hide Icon was written in Swift with Xcode 12.4. It was compiled to support macOS 10.12 (Sierra) through 11.x (Big Sur). Versions before 10.4 (High Sierra) can not detect Dark Mode switching.
5) Details
Hide Icon doesn't touch the Desktop icons. It simply takes a picture of the Desktop (without the icons) and displays this picture just above the real Desktop giving the illusion that the icons have vanished. THEY HAVE NOT. If you open a Finder window, you can easily navigate to Desktop. From there you can add, remove and manipulate items on the Desktop. You must either Show Desktop Icons or quit Hide Icons to have the usual Desktop back.
If the Desktop icons are hidden, then every one minute the picture of the real Desktop is taken to allow for time varying Desktops. Similary, on macOS 10.14 and above, changes in Appearances (e.g. Dark Mode) are immediately reflected.
For multiple screens of the same size, there is a chance the Desktop pictures will be displayed on incorrect screens.
6) Warning/Disclaimer/Licenses
Using this application won't make you more attractive or get you rich. It may even do something horrible to your Mac, though I definitely hope not. Regardless, I haven't tried to make it completely robust with all possible things that can go wrong. So, for instance, if you run out of storage space while it's running, I don't have a clue what it will do. Hopefully just complain and quit. I do know nothing in this application itself will hurt your Mac, but as you know- garbage in is garbage out.
I wrote this for my personal use. I find it useful. I also know 100s (if not 1000s) have also found it useful too. It's free and you an give the distribution (i.e. as you got it) to anyone you want. You can't sell it, though. And if you modify the script and don't give me credit for the original, you're simply evil.
G.J. Parker- http://www.parker9.com (Entonos)