We are pleased to announce a new version of Desktop Icon Manager (DIM) for macOS. DIM is a simple application which memorizes and restores icon positions.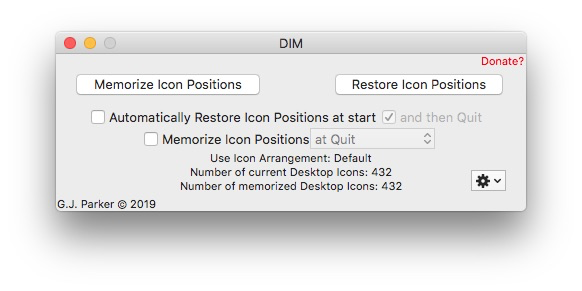 DIM 4.0 adds three features:
In additional to saving icon positions on the Desktop, now DIM will allow the same for Finder windows.
Automatically memorize icon positions at selected time intervals or "at Quit"- perhaps useful to pick up from where you left off.
Under the Action menu (lower right corner), there is a new option: "Hide Desktop Icons". Yeah, you guess it, it hides your Desktop Icons until you go back to the Action menu and select "Unhide Desktop Icons" (or you quit DIM)- useful during presentations or when you want some privacy.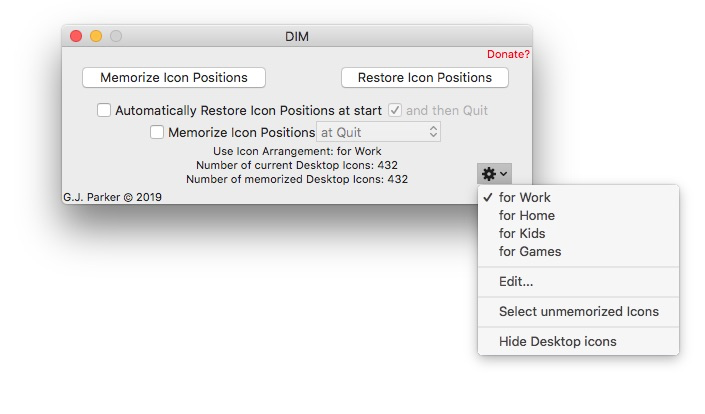 You can test out the new version without any worries since it uses it own database to store the icon positions. So running different versions of DIM is not only possible, but encouraged!
You can grab DIM and/or browse the built-in Help.
As usual, the archive includes source, resources and project settings ("xcode files.zip"). Completely unnecessary unless you want to modify/build DIM yourself.
Please feel free to provide any feedback and/or suggestions (either below or here) of where you would like DIM to go in the future.